THE ART OF TSHERIN SHERPA
A documentary film by Sheri Brenner
"There are spirits of the mountain,
What if those spirits were gone?
Gone because everyone had moved to different places?
How would they cope with the new environment? "
Above and Below tells the story of just such a spirit.
Tsherin Sherpa, devout Buddhist artist, trained by his father in the art of traditional Tibetan Buddhist thangka painting, moves from Kathmandu to San Francisco and reinvents himself, finding new meaning for an ancient art form, and launching the next wave in Tibetan contemporary art.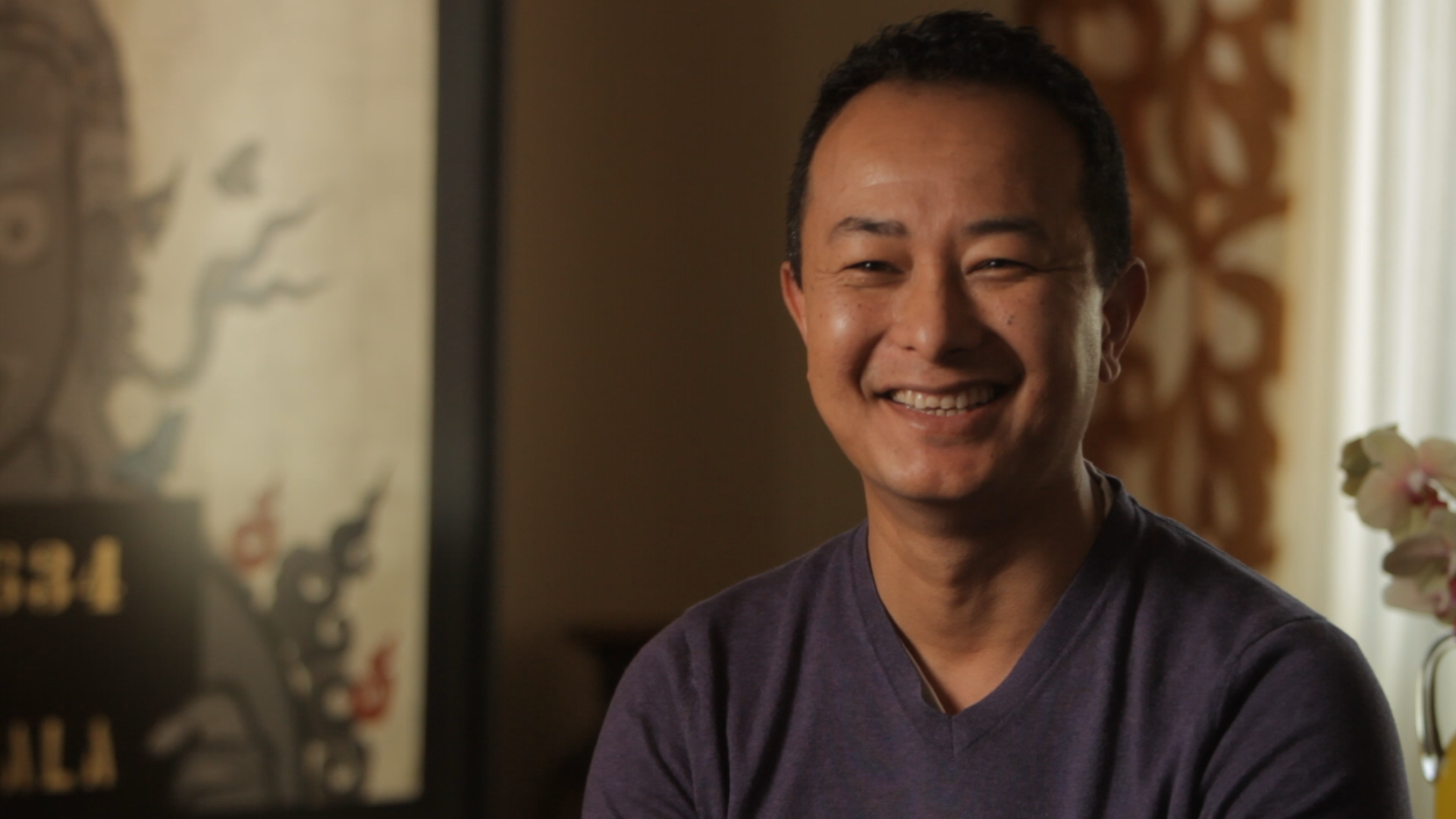 The Film "Above and Below" tells the story of his evolution from modest, devoted painter to world renowned artist.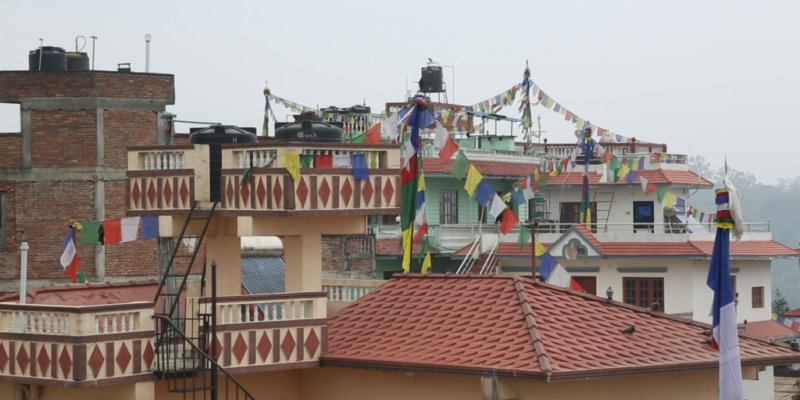 Prayer flags to billboards, Tsherin Sherpa came from Kathmandu, Nepal to San Francisco, CA.
"Abalokiteshvara"
Tsherin Sherpa teaching thangka painting at the San Francisco Asian Art Museum
"Modern Prayer Flag"
His exposure to western art, media, and ideas brought about new ideas and perspectives.   Painting thangka paintings for a living felt mechanical.  He wanted to share his ideas through his art.
"Victory of the Spirit"
The old flesh is dripping away, a new form is born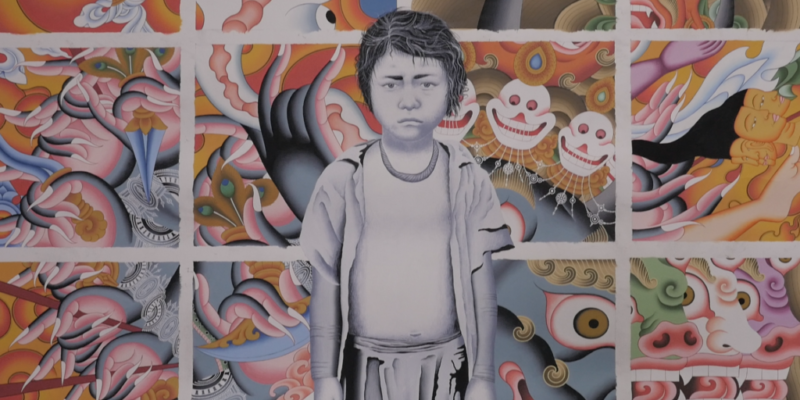 "True Stories Project"
He wanted to present a Tibetan perspective on world events through art.
"Wish-Fulfilling Tree Mandala"
Three dimensional installation exhibited at the Kathmandu Triennale. 
Sheri Brenner, the film's Director, met Tsherin during a visit to the San Francisco Asian Art Museum.  He was demonstrating thangka painting.  She was enthralled by his work and they spoke about making a short film.   Tsherin recommended that Sheri film his father, 
Urgen Dorje Sherpa, a master thangka painter known throughout the country, that he would be a far better subject.   That began a project which spanned the next fifteen years in which Sheri filmed Tsherin in the United States and Urgen Dorje Sherpa in Nepal, gaining rare insight into the real world of Tibetan sacred art and lives of its artist.    
Soon To Be Released: "Images of Enlightenment" is a companion film to Above and Below. It tells the story of Urgen Dorje Sherpa and his contributions to the Art of Thangka Painting.
"It was an honor to have a privileged look into the lives of these two artistic masters and teachers.   I knew in my heart that others would also want to enter the sanctum of Buddhist art through this film.  My hope is to share a piece of their world with the audience." 
-Sheri Brenner
Key Creative Team
Sheri Brenner has produced and directed several documentaries on world culture, sacred art, science and technology including the national PBS broadcast of Sandpainting: Sacred Art of Tibet, and In Beauty I Walk.   Her life's work is devoted to revealing and sharing the traditions, beliefs, and spiritual philosophies that lift up and strengthen the heart of humanity.   She holds an MFA degree in Cinema from San Francisco State University, and was the recipient of a Columbia Foundation Grant and a Haas Foundation Grant.  She currently serves as Adjunct Faculty and Media Lab Director in the Media Studies Program at the University of San Francisco.
Where to See the Film
Scheduled Screenings

Feb. 19, 2022                        Virginia Museum of 
Fine Art 
March, 2022                          Nepal Arts Council, Kathmandu
Upcoming Screenings
2022 Rubin Museum, NY, New York
2023 Peabody Museum, Cambridge, MA
2023 Museum of Art, Dallas, Texas
Support Above and Below
Project Stage:  Post-Production and Fundraising
We are seeking finishing funds for upcoming museum screening:
Our Potential Funders
Center for Asian American Media
Corporation for Public Broadcasting
National Endowment for the Arts
National Endowment for the Humanities
Grace Foundation
SFFILM
Rubin Museum, New York
San Francisco Asian Art Museum
Tibet Center, New York
University of San Francisco Jesuit Grant Foundation